News Archives: 2004 | 2003 | 2002
Back for a second.
August 3rd 2012 >> So we're playing a show in the old hometown of Nevada City. Its going to be The Please, The Chamaeleons (UK) and TBA. We're getting back to One Piece from the Middle.
Noah finds Shelter, Kings & Queens find Utah, oh, and Ys, its true.
November 8th 2006 >> Noah has a new record emerging on the 14th called Find Shelter, it's beautiful and you should go get it and play it many times. Kings & Queens just recorded a new tune for a compilation coming out on the new Grass Roots Record Co. label and are playing a wee show on saturday at the Hotel Utah in San Francisco. Oh, and Joanna's wonderful new record 'Ys' is out on the 14th also - it's mesmerising and features some rather elaborate sleeve design by yours truly. She's out on tour about now. Somehow there's a good feeling around the world since yesterday.
New news etc..
Saturday 6th May 2006 >> An EP of Kings & Queens music is now available here. Please do enjoy that.
Friday 31st March 2006 >> Rich's new music (Kings & Queens) will be taking the stage on 20th April at the Make Out Room in San Francisco. Please visit with us for some shambolic beauty. Failing that, please wave at Noah and Luckey with Devendra if you're at Coachella this year.
New news etc..
Monday 7th November 2005 >> It seems an update on all these pleased variations is over due so here's what's going on. Noah is currently producing a record in the mid western landscape inbetween outing with Devendra and Luckey. They are currently in Europe for the last leg of their touring for the year so if you want to get down then get down here. Jay has music coming out of his ears and Genaro is secretly involved. Rich has a new project called Kings and Queens waiting in the wings - its being recorded right now - go here to see daily progress and a journal of sorts.
The story so far.
Thursday 18th August 2005 >> A lot has occurred for the members of the Pleased over the last year and now it is apparent that a hiatus is in effect for the band; some other musical projects have been occurring that keep us from touring at the moment. The Pleased music can currently be found in all these ventures; see Noah and Luckey on tour with Devendra across europe right now, Rich's soon to be re-titled project of half finished songs, Jay and Genaro constantly threaten some new brilliance that remains unnamed for now and Joanna you likely have heard about. That's the story so far. for now.
Wednesday 4th May 2005 >> the mystical latest: Things are nearing completion which could mean that tape may be rolling again soon.
Thursday 24th Mar 2005 >> Not much to report at the moment - we are exploring the universe and Noah is producing Devendra's LP somewhere on the east, Jay has been spotted in several automotive locations, Genaro is also dicing with four wheels, Luckey is hidden from sight and Rich is going to the desert. That's all for now.
Wednesday 16th Feb 2005 >> Noah is very soon off to produce Devendra's album but the Pleased has some things up her sleeve. Who know's what April may bring?
Nothing New
Sunday 2nd January 2005 >> New year's day boredom provoked rich to knock up this charming little thing: a load of tour clips from our time with the Furs and the Shore, coupled with a never before heard half-finished instrumental version of The City Slumbers. A 2004 retrospective if you will - how quaint (big 16.8mb download).

While we uncover the mysteries that lead to a new Pleased record you may find Noah playing a show or two in SF and you can always visit us at our space.
Sunday 28th November >> The season of the witch is upon us and strangeness abounds. Ease the chill with a new Pleased track sample entitled "Hear Me Marching". Simply click here to hear. There will be more from us soon... in the meantime go see Noah in Australia.
On days like these.
Tuesday 26th October >> It's almost exactly a year since this video was completed and there's a pleasantly hi-quality version for download here at the Terri Timely website. Looks like it's time to vote...
Something is under way
Tuesday 26th October >> It's cold and wet here in the mountains so we've taken some time out of our leisure routine to record three new songs at Orderly Manor, tentatively entitled "Hear Me Marching", "Decorations of our Trade" and "If the City Slumbers". These new recordings will likely find their way to a new LP sometime next year. We realize this is a long wait but never fear for the real live music of Noah Georgeson will be heard all over the USA and Australia on the current and wonderful Devendra Banhart tour. See here for more details. Inbetween recordings Luckey has been painting houses, Genaro has been involved in a Sushi incident, Jay is almost constantly in-flight and Rich has been swimming the treacherous seas of Florida. Just so you know...
An update of sorts
Monday 20th September >> The weight of summer experience is passing and the tiny tinkerings of the last months are becoming the first flutterings of a new recording. There will be some audio pieces appearing around here shortly. In other news you may be able to catch the occasional Noah solo appearance over the next few months - its a beautiful thing so lend an ear if he's near you. Naturally, if you happen to see that Joanna is playing in the vicinity then simply go. If listening at 30000 feet is your thing then be sure to switch on the in-flight radio on American Airlines as you may catch some Pleased music. Finally, thanks to Miyuki for traveling half way round the world to see us and for making things clearer in Japan.
Orderly Manor
Thursday 5th Aug >> We'd like to say thanks to the multitudes of people who visited with us on the recent tour with the Shore and Gosling – you know who you are and you should be proud. That lineup was a rare beauty in touring partnership and hopefully we'll be playing together again someday. If you need to re-live the experience then browse the, perhaps overly-extensive, collection of images we collected along the way. Since the return home we have been occupied by many fascinating summer activities; laying about at the river, enjoying some of Joanna's shows, hiding amongst trees, doing secret music, swimming in lakes, etc... But now the time has come to cease with the larking about and begin making things, once again, at Orderly Manor. A new album is on the horizon somewhere – you may get to hear some pieces of it soon.
iTunes: you can now purchase Don't Make Things on iTunes which means you can create and share cool playlists including Pleased music... or something.
Radio radio
Saturday 3rd April >> It seems that a whole load of radio stations have discovered our album and are beginning to play "Don't Make Things" on regular rotation. This is good for us, for you and for your radio. We have inside information below as to what stations are playing us and exactly who is doing it - if you feel so inclined please send mail to keep them playing the new sound of the Pleased.
>> Click here to contact your local stations.
Hometown show
Thursday 29th July >> We are back at home again for a show this Wednesday 4th August. If you're around Nevada City, CA please drop in.
San Francisco Tonight
Thursday 8th July >> Tonight we play two shows back home in San Francsico - one at a 7x7 Magazine party at the very posh W Hotel and one at everyone's favourite Bottom of the Hill. Make sure to get there early for the Shore and Gosling.
Saturday 3rd July >> Last few shows coming up this week: tonight Houston, tuesday Tucson and thursday back home in San Francisco. We've had many adventures on this tour but we can take a few more. Come give us a scare.
A quick thing: you can now purchase Don't Make Things on iTunes which means you can create and share cool playlists including Pleased music... or something.
New Shirts
Monday 10th May >> Recently developed by the fair eyes and hands of one Tahiti Pehrson, the new Salt Horse shirts are now available in the shop.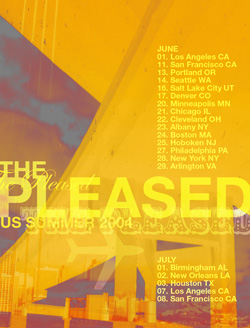 Sunday 27th June >> Our tour with the beautiful Shore now continues on the east coast before heading back west this week. We are rested from a beach day off in CT yesterday and tonight we see you peoples of Philadelphia - tomorrow we'll be saying hello to New York City - see you there.
Sunday 20th June >> Due to unforseen circustances the Cleveland show has been cancelled. We'll be back to see yousall soon.
Into the Middle
Friday 18th June >> We are settling in to the tour routine with the Shore and Gosling. The west has been very accomodating to us all... Now we head to Omaha and the mid west - see here for details. We are attempting surgery on the broken flying V tonight.
Tuesday 15th June >> Fine show in Boise tonight including accidental guitar breaking action
More New dates
Satrurday 12th June >> Just added another show in Boise, ID on the 15th June...
We just confirmed two new shows in Omaha, NE and Tucson, AZ - thanks to the peoples that helped these events come alive - we are excited to play for yousall.
Summer Tour
Thursday 27th May >> We are now in possesion of all but a couple of dates for this upcoming summer Tour with the Shore. See more details at the shows page to see where and when we are arriving on your scene.
To remind you of how we look on tour see the final installments of the Furs tour here.
Thursday 27th May >> We are still recieving final dates for our summer Tour with the Shore. The Damnwells have left the building so we'll be able to bring you more music and more general interaction as we visit your townships throughout the US. More details as soon as we know them.
MTV thing
We have recently been added to the MTV website as the Freshmen of the week or some such nonsense. See our glorious debut here - you can also catch the video here. Speaking of which, while we were in NY last week we took time out to shoot a segment for the indescribably cool ClickTrax show which airs Saturdays and Sundays in NYC on MNN and BCAT.
June / July US Tour
Tuesday 25th May >> We are currently adding the finishing touches to the route for our summer tour with The Damnwells and The Shore - see here to find out when we'll be closest to you.
More NY TV
Friday 7th May >>The Pleased are featured on Clicktrax again this weekend! Stream the show on saturday. See here for times.
New Tour in the works
Friday 7th May >> We are currently getting a tour together with another band TBA that will once again see us looping the entire US. Stay tuned for dates.
Some more tour pictures are just now appearing on the visual section.
MTV thing
We have recently been added to the MTV website as the Freshmen of the week or some such nonsense. See our glorious debut here - you can also catch the video here. Speaking of which, while we were in NY last week we took time out to shoot a segment for the indescribably cool ClickTrax show which airs Saturdays and Sundays in NYC on MNN and BCAT. Our episode should appear in about a month - we'll let you know closer to the time. For those of us outside NYC the internet allows us to see this show no matter where in the world you are so head over to http://www.cliktrax.com to find out details.
Pleased on the TV
Friday 30th April >> Back in early April we did a little interview for the Clicktrax TV people - it will be broadcast for all the see and hear this weekend. Here's some details:
Saturday 1st May on Brooklyn Community Access TV (BCAT) at 8pm EST
Sunday 2nd May on Manhattan Neighborhood Network (MNN) at 9:30pm EST
For those of you without a TV or not in NYC see here for Live Streaming of the show!
Speaking of things TV a big shout should go out to the undeniably wonderful TV on the Radio for being such fine people to play with - catch them now if you can.
California dates this week
Monday 27th April >> We are playing three shows in San Francisco, LA and Pomona this wed, thur and fri. We hope to see you peoples out there in the sunshine.
Furs Tour comes to a close
Monday 19th April >> So the Pleased are in the van on the road back home - we had a very fine time with the Psychedelic Furs for the last 5 weeks thanks to their gracious nature and the most welcoming audiences. To help reduce the end of tour melancholy we are playing some California dates in the next couple of weeks and are working on a new tour for the summer.
Heading South
Monday 12th April >> Having travelled from west to east with the Psychedelic Furs we now head south for the last 6 dates of this tour. Thanks to all the peoples who have come out to see us so far - you've made the endless driving actually worth it. We'll be back soon; new shows are being planned right now.
Word from the road
Saturday 27th March >> A week in to our tour with the Psychedelic Furs and things are stable; routines are in place, cruise control is set, we're permanently late and we've sold out of CDs. For those beautiful people of Colorado and Nebraska and St. Louis - please see here about getting a copy of 'Don't Make Things' direct from us - thanks for your patience - we'll mail you things as soon as we recieve more.
SXSW Tonight
Friday 19th March >> Things have been incredible here in Austin, TX. Yesterday we played some interesting shows at the Jackalope, some fashionable Fader thing and Jo played an amazing set, underlined by the band below, at theRitz. We've met some very fine people, fought with others, got lost and wandered the lonely highway home. Tonight we play perhaps the most interesting show at the Coppertank - 12.10am - we may even get to play over 5 songs. See y'all there.

Click the flyer to zoom
Virginia Show
Thursday 1st April >> A new Pleased show added in Williamsburg, VA on the 3rd. Sorry, no Furs with us for that one. More details very soon, before soundcheck hopefully.
Tuesday 30th March >> We are once again in possession of cds - if you missed out at any of the last 3 dates please go here to locate music. Chicago was incredible - thanks all. See you in Mt. Clemens tonight...
STOP THE PRESS: Tim Butler of the Psychedelic Furs has injured his left hand in an altercation with the band's drummer Frank Ferrer. The Furs intend to complete the tour with none other than Luckey Remington of the Pleased covering all bass duties. More details soon! See the Furs Messageboard for more details! This was an April fool gag.
New Shows
Saturday 28th February >> We have added a few more shows in the midwest and on the east coast with the Furs. Keep an eye on the shows page for final confirmation on the We are the Doctor screening at SXSW.
SXSW, Video Download etc.. !
Saturday 14th February >> The Pleased will be performing shows at the infamous SXSW festival in Austin, TX. Not only that, but the people behind the event have also deemed the video for 'We are the Doctor' suitable for the big screen viewing at the festival.
If you can't be in Austin next month for a big screen viewing, and the temptation is just too great, then please go here to download the video in compressed pixel format.
Friday 13th February >> More shows are being confirmed everyday for our tour with the Psychedelic Furs in March/April.
Tuesday 3rd February >> For the peoples living in New York City or the surrounding world you may be able to catch a glimspe of a visually satisfying version of We are the Doctor on this here fine Television show entitled Clicktrax. If you can't view at the allocated time slot, never fear; we are set to broadcast from this site in a matter of days, hours and minutes. Stay tuned.


New Dates
Friday 30th January >> A couple of soCal nights with the Psychedelic Furs in March just flew in - and there's more touring on the cards; watch this space.
Tomorrow night is Friday
Thursday 22nd January >> We hope to see some of yousall at Bottom of the Hill tomorrow night. We are playing with the frankly great Vetiver and Apollo Sunshine, it's all ages and so there's really no excuse. Thanks to all the beautiful people who were witness to the Love show last week.
New shows, charting about etc...
Tuesday 6th January >> Couple of San Francisco dates have emerged to aleviate the January grey - one wiith the always wonderful Love and Arthur Lee and one with Apollo Sunshine. We have new songs and we'd like to see you there; see more here. We just got ack from a quick trip with the Psychedelic Furs - they spoiled us rotten as did the all you people of southern california. And to top it all we just hit 35 on the CMJ Top 200 - thanks to people who are playing and listening... Here's a picture of us lost in LA.